Brenna and Brittany Interview

Glenn Taranto

September 1999

Glenn Taranto is the actor who recreated the part of the eccentric Gomez Addams in 65 episodes of The New Addams Family, a Shavick production filmed in Vancouver, B.C., Canada.
Glenn has granted us this interview of 13 questions, and has allowed us to put it on our web pages.
---
Brenna and Brittany: Hello Glenn. You are marvelous as the eccentric Gomez Addams. Please tell us a bit about your background as an actor and how you got the part.
Glenn Taranto: This may take a while. My getting the part wasn't easy but first things first, why is it starting to get hazy and spinny, oh, yeah, it's a flashback... I started out as a freshman in high school. The kids were doing a production of "Fiddler on the Roof". I was too shy to audition but when I saw the show I realized I had made a mistake. From there on I was involved as an actor in every production for the next three years. I did about 10 before I left high school. I also started doing the summer plays at the community college, in particular "1776". The following year I played John ADAMS when I was still a Junior in high school. (It was the bicentennial that's why so many productions of 1776!) Around this time I did a Dinner theater production of a play called "John Loves Mary". The first time I was paid as an actor.
Then came college, 12 years in New York, extra work in films, dinner theater in New Jersey, a play in Europe, a show in Atlantic City, Tony N' Tina's Wedding off-Broadway, a line here on a soap and a line there on "Law and Order". A play I wrote and starred in myself which led to 6 years in Los Angeles until...
I was submitted for the part of Gomez and about two weeks later I was called to audition. At the same time I had a walk on role in a show called "Brooklyn South" and they asked me to shave my mustache. My first audition consisted of a casting assistant reading Morticia's part and running the video camera. I had two days growth on the mustache so I put some shoe polish on it. I think I looked more like Groucho Marx than Gomez Addams. I had two callbacks and each time I read against several different Morticias. (None of whom were Ellie) I knew the other actor who was up for Gomez. He was more of a Raul Julia type. After the second callback they told us the next call would be the one to let us know who got the part. The next call didn't come for exactly three weeks. My manager called at ten in the morning on a WEDNESDAY to let me know I DIDN'T get it. They gave it to the other actor. Everyone I knew was stunned. All my friends said this was my role. They believed it more than I did. I had felt by this time that if even though they hadn't said yes or no, since I hadn't heard by now, it wasn't going to be me and I was right. You get a feeling about such things.
The following Wednesday my manager called and said they wanted to offer me Vlad. I was still in a depression after not getting the role of Gomez. I asked to read a script because I wanted to see what kind of part it was. When I read it and saw that Vlad was, in fact, a nice part I reluctantly agreed. I say reluctantly because I thought it would be very hard to go to the set and watch someone else play Gomez. Three days later, early on a Saturday morning, I got a call from the Fox Family Business agent looking for my manager. He was in a bit of a panic which I couldn't understand. Finally it was more or less put this way, Do you understand what this is all about? And I thought, Vlad right? Then he said, It's about Gomez. I couldn't believe it. The other actor hadn't worked out. They hadn't shot anything and how soon could I get up there. I was literally on the phone from 10 in the morning to 7 at night when the deal was closed. Two days later I was in Vancouver sitting around the table with the cast reading episodes 4 through 6.
It really makes me happy that my getting this part has filled many of my friends in the business with inspiration knowing that it's never over and that nice guys can finish first. And wasn't Chris Shyer just terrific as Vlad. After seeing him I couldn't picture me doing it at all.
B & B: What unique characteristics did you add to your version of Gomez?
G.T.: I think I showed a bit more of Gomez as a big kid. What kid wouldn't want a million bucks to do anything with. I also was allowed to do some of the impressions I can do. A good deal of that came from George Erschbamer, who saw me hamming it up between takes and came up with the James Bond scenario in the Christmas Episode. That started it. When we did the episode where Gomez gets amnesia, he was originally written as being a 1950's style dad. George said, "Everyone's seen that. I want the Addams to meet that Brooklyn guy you're always doing. They've never met anyone like him." George is completely out of his mind and I would work with him any chance I get. I loved the idea and said to George, "If that's the case we should just do the whole DeNiro thing". He was totally for it and the episode became peppered with lines from DeNiro movies.
B & B: Gomez was the most athletic, acrobatic, and accident prone of the family. There were stunts, stunts, and more stunts! Were you like Bruce Willis and did most of your own stunts, or were you hiding under the bed whenever a jump-out-of-the-window scene was going to be shot?
G.T.: I stood on my head, hung from my ankles, dangled from a chandelier, and fenced. Prior to the show I had never done any of those things. I wanted to do more of my own stunts but I wasn't allowed. I begged them to let me do some of the simpler things, like falling over the couch, but they didn't want to chance anything going wrong.
Those amazing flips you see were, with one or two exceptions, done by a great guy by the name of Darryl Scheelar. He's the one who made me look so good. A very talented guy. He played the cat burglar in the episode about what else?
B & B: Gomez had a very wide-ranging wardrobe. What was your favorite outfit or costume? What show just drove you crazy with way too many costume changes?
G.T.: My favorite wardrobe was the thick gray and blue pinstripe suit, the blue shirt and white collar with the gold tie. I really liked that suit. Before you ask, I didn't get to keep it. I knew instinctively from day one I wouldn't get to. I asked at show's end but I was told it was going back to Fox Family. It was the same suit worn by Tim Curry in the Reunion Movie. His name was sewn in the inner pocket. I wonder where it is now? I also liked the double breasted army suit.
Every episode drove me crazy with costume changes. I think I had as many as 20 in one day. The other cast members were in make-up longer but I was always running back and forth changing wardrobe. Fortunately, it wasn't my job to keep it straight. I don't know how they did it.
B & B: Our mom (Cheryl) really wants a chair like Morticia's Peacock Chair. Did you and the other actors and actresses get to keep any things (we mean props) from the show? Who got the trains?
G.T.: We all got to keep things which was very generous of the company. I don't know who got the trains. I would have liked one of the engines but I did get the last full bridge from the tracks. Among other items I got to keep were the noose we pulled to ring Lurch, a puzzle the kids had in one episode, the elevator call switch, the huge painting of Long John Addams, the skull cookie jar from the Halloween episode. Unfortunately the sword I used to duel with in every episode broke in half during the Long John Addams show. I did get the crumpled sword. Can you guess which episode that was used in? I also got some of the other suits and shirts I wore during the show. My favorite, of which, was the camouflage suit. I suggested to Joyce, our wardrobe head, that if the Addams were going to run a military academy Gomez would have a double breasted fatigue suit. They made it and it came out great and I got to keep it.
B & B: You had less makeup than the other actors on the show. Do people in the street recognize you as Gomez?
G.T.: I just got recognized in the video store. It was the first time someone called me by name. Which completely surprised me. He asked me for my autograph. The last time I was in that same store I saw William Daniels. (St. Elsewhere, Boy Meets World) I was buying a laser disc of 1776 with the director's commentary. I asked him for his autograph. He was the star of 1776 on Broadway and in the very film I was holding in my hands. Now there was a coincidence!
B & B: Gomez and Morticia were always competing. Didn't you wish Gomez could win, just once?
G.T.: But Gomez did win every time. He had Morticia!
B & B: What was more sore at the end of each filming day? Your lips or your eyebrows?
G.T.: My feet. 16 hours standing on a cement slab can really make you ache. Ask Mike. He changed his boots anytime his feet weren't seen. Toward the end of the run I kept asking the same question too, "Are they going to see my feet"? If not, I wore black running shoes. A chair and a comfortable pair of shoes are important to any actor.
B & B: Do you like blowing up trains in real life?
G.T.: Especially when I'm in the mood for a good steak and I'm traveling through Chicago.
B & B: And just a few more short snap-snappers: Your most enjoyable scene? The show's biggest goof-up? The hardest scene to shoot? Your favorite episode?
G.T.: The Dr. Frankenstein scene with Mike. (Ellie will kill me) I love old movies. I grew up watching all the old Universal Horror movies of the 30's and 40's. My brother and I would stay up all hours of the night to watch them. I own most of them on laser disc now. George Erschbamer came up with the idea for the scene and I said I have to do it like Colin Clive in the original "Frankenstein". I also asked for the streak of white hair. That came from the Humphrey Bogart film, "The Return Of Dr. X". I'm a huge fan of Bogie's too. Bob Hope, Bing Crosby, Wheeler & Woolsey, Richard Dix are among some of the older actors that I like. George Hearn, Philip Bosco, Gary Oldman, and Anthony Hopkins are some of the newer actors whom I admire.
The show's biggest goof-up? There are two actually, that I can think of. The episode about Cousin Itt and the zoo doesn't make any sense if you examine it. Cousin Itt's story line regarding being broke and being tossed out by his girlfriend and getting a job and her calling up and saying she'll take him back could have been tighter. That story line always bothered me and apparently still does.
The other is during one of the last episodes we did they dropped in a very beautiful painting of one of the Fox Family Executives in a period costume. The painting was completely un-Addams. They wouldn't have had such a nice looking woman's portrait hanging in their home She should have been holding her head or something relatively Addams.
The hardest scene to shoot was any scene with George Erschbamer at one in the morning. Actually, I think it was the walking on the ceiling in the "gotcha" episode. No, No, it was the last episode where Gomez battles death. Those battle scenes were exhausting. It was hot and it took forever to shoot against the green screen. (Both directed by George by the way)
Favorite episode, without a doubt. The first one with John Astin. The whole thing was nothing short of magical for an actor who is most definitely still star struck.
B & B: What was it like meeting the original Gomez - John Astin?
G.T.: Much has been written about my first meeting with John about five years ago. I had been told many times we resembled one another. I always took it as a good sign. John is one of the most gracious, generous and warm people you could ever hope to meet. A very genuine human being. My performance, in my mind, was always paying homage to him because without John there was no Gomez. No Addams Family. I knew I could never be better or even as good as John and I didn't want to try. I just wanted to, more or less, honor the work of the man from a show I had watched all my life. It would now appear that, without John, I would still be struggling in those recurring cop roles.
People asked me if I was nervous working with him in a role he created. I wasn't a bit. Sure, I wanted his approval, but he's Gomez. As far as I was concerned when he was on the show he was Gomez and I was "Young Gomez". We never did say his name. I would like to work with him again on some other project where we can act different characters. To me to be nervous would mean there was some sort of competition. I wasn't competing with John. If there was any competition he already won it 30 years ago. It was nice, though, to have the torched passed. When you think of all the great actors with whom John has worked and as a student on the history of "show Biz" and other actors nothing gives me greater pleasure than to know I fall in that line somewhere. Even if it is as a footnote.
B & B: So now that the show is over, where do you go from here? What is next on the agenda for Glenn Taranto?
G.T.: I took a break and went to visit my family and friends back in New Jersey where I grew up. I'm still close with my friends from high school and we were able to get together for pina coladas on the beach. I am currently sitting by the phone waiting for it to ring. I would like to do a drama though. I love comedy but change is good.
B & B: In 30 years from now, will you come back on the New New Addams Family to play Grandpapa Addams?
G.T.: Nothing would give me greater pleasure than to do that. As I said I have a great interest in the history of acting and actors. I couldn't think of anything better than to pass on the torch to some other Gomez. Truth be told, I still can't believe it. It seems more of a dream now that it's over. When I catch an episode on TV I stop and marvel at my great good fortune. I don't think I will ever get over that early morning call that told me, after 17 years of struggling, my dream was finally coming true.
B & B: Thank you Glenn for agreeing to do this interview with us. We wish a lot of success to you and very much look forward to seeing you again in future roles.
G.T.: Thank you! Any time I meet a kid who likes the show I always say, I'm glad because we made them for you. Your continued interest makes it all worth while.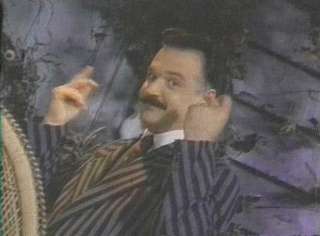 Addams Family stuff is available at:





Daddy's Page | Mommy's Page | Brenna's Page | Brittany's Page
Our Mummies Alive Home Page


You can reach us by e-mail at:

This interview may not be reproduced in any form in whole or in part without specific permission to do so.

Copyright © Louis Kessler
All Rights Reserved