The New Addams Family

House For Sale

No, the Addams Family House is not for sale. But if it were, we know its many features would have to attract some buyers. This is what the real estate listing for the home might look like:
---
For Sale by Owner
1313 Cemetery Lane
Greenbriar, U.S.A. 66613
Phone: 555-1313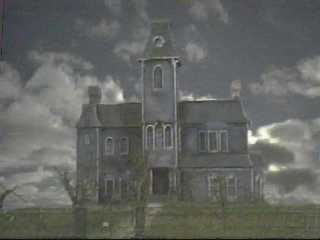 Very large 26 (or 27) room mansion (depending on whether Fester has made another impromtu addition with his cannon)
3 stories plus dungeon. Elevator access to all floors.
Titanium used for construction instead of wood. Relatively bomb proof.
Oversize front door with living door knocker.
Foyer has a magnificent staircase with a useful trap door at the top. Remote control for the trap door costs extra.
Library and sitting area.
Den is great for model railroading.
Dungeon includes playroom with electric chair, guillotine, bed of nails, and a stock to rest your arms and head in.
Master bedroom.
Children's bedrooms feature iron gates.
Very unique guest rooms.
Conservatory, perfect for your African Strangler Plants and Poison Oak.
Walls that can talk.
Many secret passages, trap doors, and skeletons in the closet.
It's a great house to get lost in. Some of the guests still are.
Home sees regular maintenance. It is lightly dusted daily. The rotton floorboards (specially imported from Italy) are loosened appropriately.
Yard is landscaped with exotic rare carnivorous plants. Branches of many vines are quite playful.
Cemetery in back yard is great for picnics and relaxing in the hot tub.
Swamp filled with large alligators that make wonderful pets.
Mailbox requires feeding daily.
"Beware of Everything" sign at entrance gate.
What other house do you know of that can proudly say it has been condemned five times?
On second thought, we love this home so much, you can't have it!

Addams Family stuff is available at:





Daddy's Page | Mommy's Page | Brenna's Page | Brittany's Page
Our Mummies Alive Home Page


You can reach us by e-mail at:

Disclaimer - The New Addams Family is the property of Shavick.
This content about the show is ours but the show belongs to them.

Copyright © Louis Kessler
All Rights Reserved