We are the
Supporters of Mummies Alive! on the Web
---
On their site is a page about Mummies Alive which has the full video of the leader to the show that includes the theme song!
But Buena Vista Home Entertainment now owns the distribution rights.
You have to bug them if you want more episodes released.
---
Got MA Fan Fiction?
Want to see Fan Fiction?
Check out the great Mummies Alive Section
at FanFiction.net
---
Most Recent MA DVD: "Mummies Alive! - The Beginning..."
Released Sept 23, 2003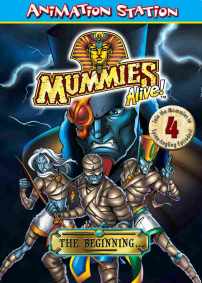 This DVD was released by UAV Entertainment Corporation.
Contains the first four episodes.
Was available most major retailers including Wal*Mart.
It retailed for around $9.99 US.
---
Some Mummies Alive stuff is available at Amazon:

---
Mummies Alive Had a Great Fanzine:
The Phoenix Gate
12 Issues Were Produced
from October 1998 to October 2001
Here is the Most Recent Issue
All issues are listed on the SOMA Links Page
Only the last three are still available online.
Be Sure to Visit Them. They are superb!
---
Become A Supporter
Our goal is to publicize the show on the Web
and hopefully influence the Powers-To-Be
to begin producing a second season of episodes
or at least keep the program on the air.
---
You Can Also Search All the Mummies Alive Web Sites
Try it right now from the logo at the top of this page!
Or go to the Mummies Alive Web Search Page
---
Lot's of Mummies Alive Merchandise has been made Available!
Check it all out here!
---
We need your opinion.
Fan support may help bring about another season of shows.
Please fill out Brenna and Brittany's Mummies Alive Survey
---
The Mummies Alive City Key Winner
was an award that was established by Smilie :)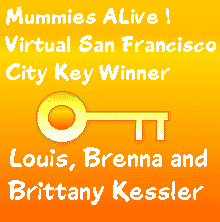 The SOMA site is maintained by Louis Kessler
Please send any site suggestions or Mummies Alive information for the site to:

The SOMA Logo was created for SOMA by Kalia

Copyright © Louis Kessler
All Rights Reserved